Disposable Sperm Counting Chamber/Slides
Brand : Sanwe
Product origin : Xuzhou,China
Delivery time : 3-5 days after payment
Supply capacity : 10 sets per week
Disposable type one silde 4 tests 10um deepth
Disposable Sperm Counting Chamber/Slides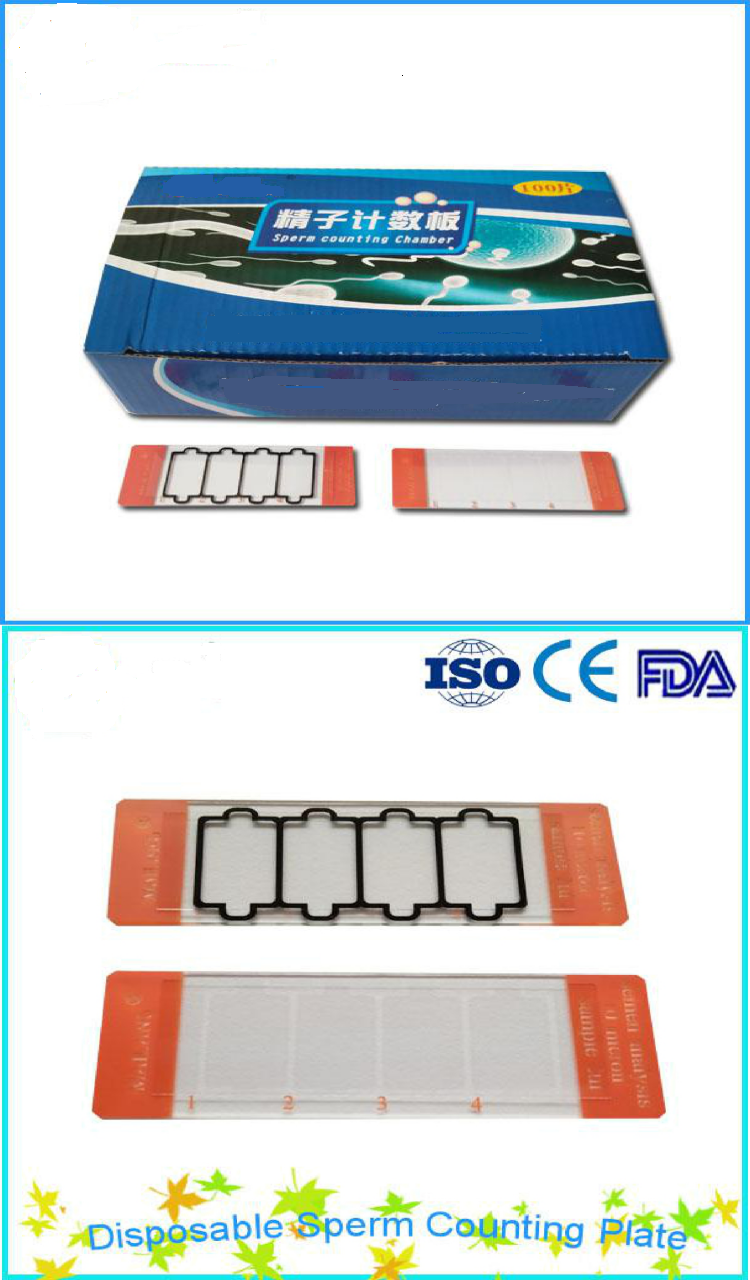 【Glass Specification】76.2mm×25.4mm×1.0mm
【 Usage 】The sperm counting chambers are apply to the computer and microscope assisted tests, such as, clinical medical examinations, animal husbandries, life science researches, drug trials, toxicology experiments for different types sperm analysis.
Usage: Using the micro pipette or pipette, it can add moderate concentration sample solution to the application area of the slide, and then the slide can automatically suck the sample into the chamber after the sample touch the edge of the cover slip.
Storage Condition: Ventilated, Dry, Moistureproof, Dust Pollution.
Product Advantage:
1. The slides can use the optimized counting chamber forming the single–layer, independent sperm cell, without overlapping and stacking phenomena.
2.Sanwe counting chamber can automatically suck the sperm from the suction port and fill with the entire chamber. It can save your time and reduce the working intensity.
3.One time only, no need to wash for reuse. It can prevent cross pollution from repeated use.
4.Each counting slide can test four or more samples in the same time.
Annoucements:
1. Semen collecting samples should be combined with samples after dilution, so as not to affect observation and analysis because of sperm density.
2. Before testing, sperm samples are placed on 38 ℃ thermostatic temperature platform for 3 minutes, which can get more accurate test results;
3. For frozen or more viscous semen samples, it should gently tap the coverslip after sample adding to eliminate static electricity and the surface protein adhesion, spreading sperms and avoiding sperm aggregation to affect the observation and analysis;
4. The counting slides are disposable supplies. Don't reuse it and then it can protect the test results from the contamination.
Sperm counting slides are designed for the computer assisted sperm analysis to meet the requirements of CASA and OIE international standards.

Pictures:
Comparison Chart

| | |
| --- | --- |
| Sanwe Sperm Counting Chamber | Similar Sperm Counting Chamber |
| | |
| According to the different species of | Detecting different sperms all need to |
| sperms, we design many different | test and cannot solve the problem of |
| counting chamber to fit with it. No matter | accumulate sperms. |
| how high the sperms it is, it will be a | |
| single-deck in our chamber. | |
| | |
| Ease of use, do not need experience. | Need to debug and only for professional. |
| | |
| Disposable and cleaning. | Recycling and hard to keep slides clean. |
| | |
| One slide can support four sample, save | One slide just supports one sample and |
| time and money. | needs to wash by manual work. |
| | |
| Do not need to dilute, adding sperms | Do not need to dilute, adding sperms |
| immediately. | need to debug. |
| | |
| The strictly separate sealing design can | One time one sample, recycle to clean. |
| prevent the cross infection. | |
| | |
| Transparency with clean background, | It would be hard to recognize under the |
| and sperm images are clear to count. | accumulation and unclear background. |
| | |
| Sanwe counting chamber is single-deck | The thick slide can move freely, so that |
| with no gridding. It designs for the | you cannot control the chamber very |
| detection of sperm motility. Sperms can | well. |
| move freely. | |
| Short time detection with high efficiency. | Heating thick slide needs a long time, |
| It has fine heat-conducting property and | and be warm slowly. So that it will has |
| can up to the setting temperature fastly | bad effect on the motility of sperms. |
| to protect the motility of sperms. | |
Please feel free to give your inquiry in the form below. We will reply you in 24 hours.