Sperm Counting Chamber with Ruby
Brand : Sanwe
Product origin : Xuzhou,China
Delivery time : 3-5 days after payment
Supply capacity : 10 sets per week
Sperm Counting Chamber with Ruby Reusable type Chamber with grid manallly
Sperm Counting Chamber with Ruby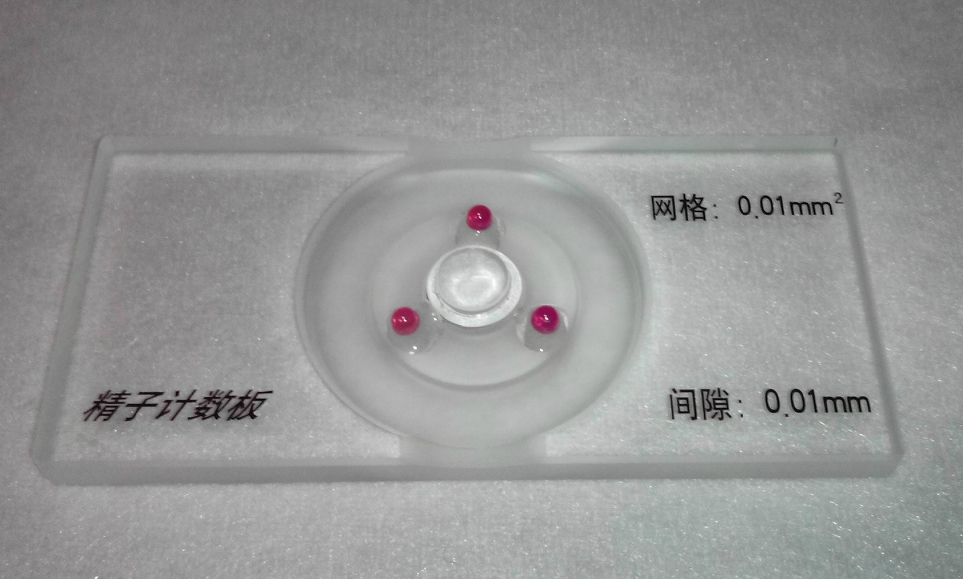 1.Application
Sperm counting chamber is widely used in the Fluid samples of the routine examination and measurement inspection,such as semen, prostate, cervical mucus and so on.
2.Main technical parameters
1) exterior dimensions:76×36×7
2) The grid sperm count plate:0.01mm2/ per Trellis
3) The computer scanning with no grid sperm counts board
4) The space between pedestal of count plate and cover plate is 0.01mm(10u)
5) precision error: The clearance at 37 degrees is ±0.001 (4 red light wavelengths)
3.Usage way
1) Φ 6.5 mm round little platform on the base is carrier liquid platform.
2) Disinfecting the platform using medicine alcohol
3) Dropping the inspected body fluid on theround platform
4) Close the cover and insert it to the microscope platform of constant temperature. Then observe it using 20 X microscope.
5) In the microscope visual system, connect digital camera with computer, and then the computer scanning count work ( still using 20 X optical lens).
4.Announcements
1) This product is a check try products with high precision glass and cannot be hitted.
2) Do not use hard thing to blow the surface of the platform.
3) It should be cleaned up without using and put it in special box after disinfection
4)Disinfection method:clean up with clear water first then wipe with medicine alcohol , notice that water temperature can not high than 40 ℃.Do not use high temperature to disinfect.
5.The range of repairing
1) Count board: 1 year (according to the type of bord)
2) The gem fall off (but not lost)
3) The clearance is too high and the normal range is 0.01 + /-0.002. (Can not be judged by visual inspection)
4) The piece need to be fixed , when it come back to the factory, the type of the bord should be accordance with the type in certificate.After repairing, return it as the former type.
6.The following circumstances are not in guaranteed repair range:
1) The counting plate belongs to senior glass product, vulnerable so please operate it according to instruments.
2) It appears scratch, broken edge glass, the loss of the stones because of improper use.
3) The gem fall off due to the temperature deviation(more than 50 ℃, below -4 ℃)
4) It appears clearance after using 1 year.
The product's quality is stable and reliable. Before leaving the factory, they have strict inspection and experiment. The products implement "three bags of Service"If not for,human error,we provide free repair and replacement in one year and lifelong tracing service to customers. welcome users to use our company's high quality products!
Please feel free to give your inquiry in the form below. We will reply you in 24 hours.